BULLETIN BOARD


If you could please leave a message, good or bad, about our site we would be glad to post it on our bulletin board.


Contact Us
Please leave any comments that you would like us to post.


Pages: 1 | 2 | 3 | 4 | 5 | 6 | 7 | 8 | 9 |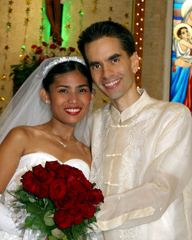 I met Jessica from your site July 24, 2003. I had no idea how to make a connection with someone over 8,000 miles away. I live in Michigan and Jessica is from the Philippines.
The distance barrier seemed great, but I quickly saw some qualities in Jessica that I liked and eventually grew to love. She is kind, attentive (including being a great listener), simple, adaptable, and loves her family.
Jessica and I knew each other one year when I decided to propose in July 5, 2004. The day-to-day interaction was not there, but we value many of the same things. We are both Catholic by upbringing and by faith. This faith played a strong role in telling us that we should be together.
We were married in her hometown of La Libertad, Negros Oriental on December 29 2004. Getting married in her hometown was her dream and my ideal. Her entire family was there. And when I say entire, I mean ENTIRE!
Thank you again for providing a forum that has had the most profound influence, not only on the life of Jessica and me, but of her family too.
David A.
Michigan

---
Hi Bud! This is Chris from Pennsylvania again. I was on the Sunday morning call to Kiev yesterday and I just wanted to say how wonderful it was! The two ladies were absolutely charming with their sweet voices and warm personalities! The detail in which they answered the questions showed just how mature they really are even for their young age. It's calls like this that really help to keep me motivated to finding someone special for me. I'm sure that all of the men on the call feel the same way. Thanks again Bud, for all of your help and encouragement!!
Sincerely,
Chris B.!
Pages: 1 | 2 | 3 | 4 | 5 | 6 | 7 | 8 | 9 |
Miss Peru

7320 N Dreamy Draw Drive
Phoenix, Arizona 85020
(602) 553-8178
FAX (602) 468-1119

Contact Us



THIS PROGRAM IS THE SOLE PROPERTY OF MISS PERU AND MAY NOT BE COPIED IN ANY WAY OR FORM WITHOUT EXPRESS PERMISSION FROM MISS PERU.

© COPYRIGHT 1996-2023 - ALL RIGHTS RESERVED.